The 12th annual How Weird Street Faire
Sunday May 1, 2011 – Noon to 8pm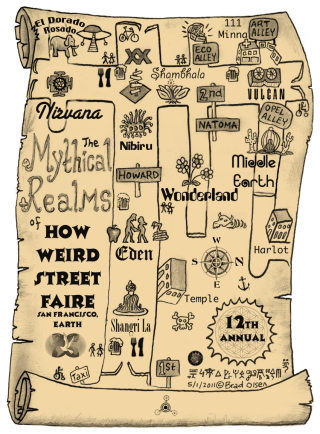 Howard & 2nd Streets, San Francisco, Earth
Journey to a land of peace.
All ages welcome. Costumes and dancing encouraged.
---
This is one of those events that gives SF that little touch of "Weird" that out of towners tie to our beautiful city.  I'd go after church and lunch if I can find anyone who might be interested.  My camera is ready, as always.
There'll be some on stage Drum & Bass.  :)  I don't remember ever being able to see that in the day… 'cept for the LoveParade / Fest (good times). A flying saucer landing will be on the grounds just in case… hence the "how weird."
The idea of being able to be part of SF's strange factor makes me happy.  I can wait to head to future faires, at a more opportune time, I think I've spent enough time in the clubs to fill my SF fun factor requirement.